Artist Details: Adam Frank and Sam Shalabi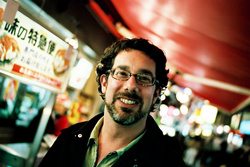 Adam Frank writes criticism and drama, and teaches in the English department at the University of British Columbia. His research areas include nineteenth- and twentieth-century American literature, science and technology studies, and theories and histories of affect or emotion. He is currently writing a book, "Studies in Feeling, Form, and Techne from Poe to Stein," on the poetics of graphic technologies. Overpass! is his second libretto written for Sam Shalabi.
Sam Shalabi is a central node in Montreal's free improv scene. One cannot count the many projects he is a part of. He is best known as a founding member of Shalabi Effect, who have recorded three albums on Alien8 Recordings which have earned the band extremely good response from critics and music enthusiasts alike. Apart from Shalabi Effect, he is also part of a number of bands, among which Detention, Molasses, Po, 'Gypt Gore, and a trio with David Kristian and Alexandre St-Onge. He is also known for three solo albums: "Luteness" (Squint Fucker Press, deleted), "On Hashish" (Alien8 Recordings), and of course "Osama", his investigation of arabophobia in a 'post-9-11 world'. His style ranges from freeform psychedelic rock to the most oddball abstract performance. Although mostly known as a guitarist, the highly versatile Shalabi also performs on oud and a variety of other instruments.
Releases and items by Adam Frank and Sam Shalabi

CD: $10.00
Alien8 Recordings
A mix of dialogue, interviews, documentary material, and composed music, "Overpass!" presents the story of Antonia, a new arrival to Vancouver, BC ...