Artist Details: Aidan Baker and Tim Hecker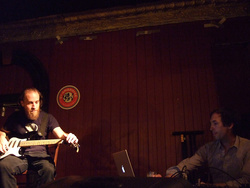 Aidan Baker is a musician and writer currently based in Toronto, Canada.
As a solo artist, Baker explores the deconstructive sonic possibilities
of the electric guitar as a primary sound source, creating music that
ranges from experimental to post-rock to contemporary classical. He performs
the experimental collective ARC and the ambient/doom metal project Nadja.
He has also composed work for the The Penderecki String Quartet
and The Uxbridge Chamber Choir.
Tim Hecker is a Canadian-based musician and sound artist, born in Vancouver. Since 1996, he has produced a range of audio works for both international and Canadian recording imprints such as Mille Plateaux, Alien8, Staalplaat, Fat Cat and most recently Kranky. His works have been described as "structured ambient", "tectonic color plates" and "cathedral electronic music", however for the most part, have focused on exploring the intersections of noise, dissonance and melody, fostering an approach to songcraft which is both physical and emotive.
Aidan Baker and Tim Hecker collaborated together in the studio on their Fantasma Parastasie release.
Releases and items by Aidan Baker and Tim Hecker

CD: $10.00
Download: $8.99
Alien8 Recordings
_Fantasma Parastasie_ sees the pairing of "Aidan Baker":http://www.alien8recordings.com/store/artists/aidan-baker, of the Ambient Doom band "Nadja"...