Artist Details: Blessure Grave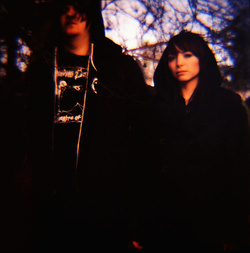 Since September of 2008 Reyna Kay, T Grave and a revolving cast of bass players and drummers have played scarce amounts of shows usually going down in spurts. But on a recording level they've achieved some sort of poor man's prolific reputation with numerous vinyl releases and a cassette, combining elements of the goth, post punk and neo folk but recorded in some kult black metal band's dungeon for maximum fog at dusk fidelity. Citing Killing Joke, Death in June, March Violets and the Cure as influences, Blessure Grave injects a pop sensibility into songs otherwise doomed to dreariness, creating an interesting mix on old and new but dark all around. Joined by Jacob Turnbloom, Sean Lotte and Nick Friesen, the duo finds itself pulling away from the lofi trend of recent months into something all their own. Out of the bedroom and into the night.
Releases and items by Blessure Grave

CD: $4.99
Download: $4.99
Alien8 Recordings
Founded as a duo by T. Graves and Reyna Kay in September 2008, Blessure Grave blurs the lines between the Goth, Post Punk and Neo Folk genres. The ...