Artist Details: Contagious Orgasm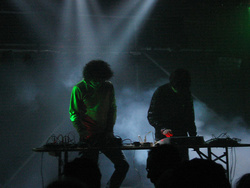 Hiroshi Hashimoto has been recording under the name Contagious Orgasm since 1987. Their has gone through many changes; from dark and creepy sound constructions to beat oriented music verging on dance music. This CD combines a little of all of the Contagious Orgasm styles. There is sample based sound sculptures, annoyingly repetitive looped bits of musical phrases sounding like Muslimgauze, Japussy 2000 or Climax Golden Twins and wonderful complex soundscapes combined with mellow beats that blend right in.
Releases and items by Contagious Orgasm

CD: $10.00
Ground Fault
The sounds on this CD flow without parameter as the title suggests. Recordings of the sound of a town in Germany. The sound of a park being cleaned...