Artist Details: Crawl Unit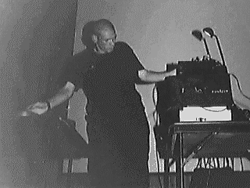 Throughout the years California has gained world wide rep as one of the most productive matrixes for experimental artists, in a wide spectrum of styles and philosophies. Within the medium of 'new abstract sound' Crawl Unit is undoubtedly one of the revelations of the last couple of years. It is the solo project of 24-year old Sacramento native Joe Colley, who also heads his own noise oriented record label Povertech Industries. Colley has an innate fascination for low-grade communications technology, and turns to "consumer electronics" rather than sophisticated digital equipment to create a cerebral form of music; powerful, organic sound tapestries that are both challenging and intelligent. He's succesfully collaborated with bands like Small Cruel Party and AMK, performed with Daniel Menche, Merzbow, Killer Bug and Hijokaidan, and toured the States with Scot Jenerik in October of 1996.
Releases and items by Crawl Unit

CD: $8.00
Ground Fault
A pioneer in sound event constructions, Crawl Unit (Joe Colley) has been releasing material since 1992 on labels around the world, including Drone,...