Artist Details: Duchess Says and Red Mass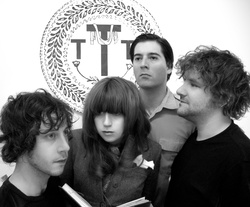 Duchess Says was created in late 2003 by four influent members of the Church of Budgerigars who decided to collaborate together in a common musical project. Their goal was to insure a faithful representation of the message of the Duchess (or spiritual budgie) through a precise artistic dialog. Composed of A-Claude (vox, keytar, guit, programmations), Ismael (keyboard,guitar, programmations), Phil (guitar, bass,feedbacks) and Simon Says (lo-fi beats, drums and doubtful noises).
Red Mass is a relatively new band assembled from the ashes of CPC Gangbangs, and also including members of lesser-known bands such as Black Feelings, Chocolat, Demon's Claws, Ghost Limbs and the Hot Springs.
Releases and items by Duchess Says and Red Mass

7-inch: $5.00
Download: $2.99
Alien8 Recordings
Wow! Our first 7" release! We hope that you are as excited as we are. This release pairs two like-minded bands that compliment each other and pair ...