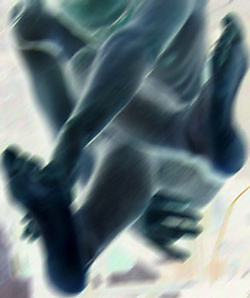 Eric Cordier has studied fine arts, body-art & music. He began body-art performances/tape music between 1986 and 1994 under the name of Nadir, with Jean Luc Guionnet and Cécile Maupoux (21 performances in France, Germany and Nederland). Actually this work is done in duet with Cédric Peyronnet/Toy bizarre under the name of La Compagnie Pordurière. He was a sound engineer on the Industrial-EBM band The Grief during tours in 1990 and 1991: Nederland : Nijmegen, Utrecht, Hoorn, Amsterdam; France : Paris, Montpelier, Saint-Malo, Portugal : Coimbra, Funchal (Madera). He was also sound engineer for contemporary music concerts as M. Kagel and theatre tour since 1989. He plays hurdy-gurdy in various improves, free-rock or industrial bands : UNACD, Schams, Phéromone, Tore, Enkidu. He is credited with introducing Keiji Hayno to the hurdy-gurdy (November 92), as well as Jim o'Rourke (October 95). He has played in the Duet with Dominique Regef (Malicorne). His interest in plastic arts and music is conjugated in sound environments exhibitions. There has been around twenty exhibits in 10 years:
References : Festival Tramway Rouen, Aéronef Lille, CREDAC Ivry, Traffics NantesS Member of the team of programation of festival Tramway 95-96 : K. Brotzmann/Massaker, Alboth, Painting, Denis Colin trio, Berthet/Le Junter, Deux fois rien (Spirli), Hint, Prohibition, Kinobits (Noetinger/Tanaka/Zetel/Le Quan), Thierry Robin. Radio producer at the national French radio France Culture : Tentative première/Clair de nuit, Nuits Magnétiques 1991, "La Lisière de Forêt" & various Atelier de Création Radiophonique.
Iin 2002 Eric has earned a PhD in Ethnology/Religious Science in analysing the popular culture of the peasants of the Normandy during the XIXth century. Some articles are available in French on werewolf, fairies, elves, goblins, imps, bee honey, and the opposition between wild and domestic animals. He actually try to do recordings of popular music : Lu Sheng dance and songs in a Thai minority of China, the Dong, where his girlfriend is doing ethnology.