Artist Details: Et Sans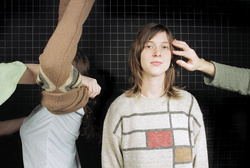 Et Sans is Roger Tellier-Craig (Le Fly Pan Am, set fire to flames and ex-godspeed you! Black emperor) and Alexandre St-Onge (Shalabi Effect and Klaxon Gueule). They often incorporate other players into a full band, adding Felix Morel (Le Fly Pan Am) on drums, Sophie Trudeau (godspeed you! black emperor, set fire to flames and silver mt. Zion) on violin and vocals and Stephen De Oliveira on electronics and vocals. The project seamlessly intermingles experimental based psychedelic-pop with vintage minimal post-industrial dance music with nods towards classic kraut rock of the 70's.
Releases and items by Et Sans

CD: $3.00
Download: $2.99
Alien8 Recordings
Et Sans' long awaited debut for Alien8 Recodings dispels the notion that all Montreal bands that include members from the Alien8 and Constellation ...