Artist Details: Fushitsusha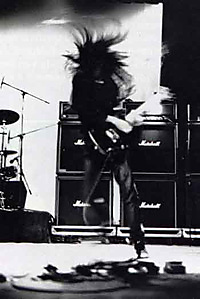 Currently a power trio and among the very best there has ever been. This group is absolutely legendary and really recommended for anyone interested in heavy psychedelic music and avant garde alike.
Formed : 1978 // Tokyo, Japan
Members : Keiji Haino (guitar, vocals), Jun Hamano (bass), Yasushi Ozawa (bass), Maki Miura (guitar), Takashima (drums), Akui (drums), Seijiro Murayama (drums), Jun Kosugi (drums), Ikuro Takahashi (drums), Hiroyuki Usui (drums)
Releases and items by Fushitsusha

Victo
Les Disques Victo - VICTO 060 - released September, 1998 compact disc - 8 tracks - 64 minutes 49 seconds Live at the Festival Internati...