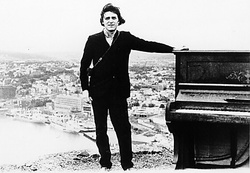 (born 1956, Kingston, Ontario, Canada)
Gordon Monahan's works for piano, loudspeakers, video, kinetic sculpture, and computer-controlled sound environments span various genres from avant-garde concert music to multi-media installation and sound art. As a composer and sound artist, he juxtaposes the quantitative and qualitative aspects of natural acoustical phenomena with elements of media technology, environment, architecture, popular culture, and live performance.
Monahan began performing in public as a member of various rock bands in Ottawa, Canada (1968-73). Since 1978, he has performed and exhibited at numerous performance spaces, galleries, and festivals. Early in his career, he specialized as a pianist, performing John Cage's Etudes Australes, premiering pieces by James Tenney and Udo Kasemets, and composing extended works for acoustic piano (Piano Mechanics, 1981) and amplified prepared piano (This Piano Thing, 1989). The renowned composer John Cage once said, "At the piano, Gordon Monahan produces sounds we haven't heard before."
Beginning in the late 1970's, he created sound works using elements of natural forces and the environment, eventually constructing long string installations activated by wind (Long Aeolian Piano, 1984-88), by water vortices (Aquaeolian Whirlpool, 1990) and by indoor air draughts (Spontaneously Harmonious in Certain Kinds of Weather, 1996). His work for electronic tone generators and human speaker swingers (Speaker Swinging, 1982), is a hybrid of science, music, and performance art, where minimalistic trance music based on the Doppler Effect contrasts with issues central to performance art such as physical struggle and 'implied threat'. Viewing the loudspeaker as a discrete instrument for generating or 'representing' music, Monahan has constructed a loudspeaker catapult (A Magnet That Speaks Also Attracts, 1986) and a series of 'imitation' loudspeaker installations (Music From Nowhere, 1989). During the 1990's he developed an ensemble of multi-functional computer-controlled sound-machines which undergo various transformations as performance and installation environments. In Machine Matrix (1994-96) a programmable MIDI computer controls the actions of a network of machine sculptures built from electronic surplus and industrial trash, which generate complex layers of acoustically produced sounds. A remote-controlled robot enters this environment and pretends to learn how to perform and behave on a public stage. He created an interactive mechanical sound installation for the Sony Center in Berlin (2000), and has recently developed new installations using computer-controlled water drops falling upon amplified objects (When it Rains, 2000/2002).
Monahan's interest in 'hi- and low-tech' and 'high and low culture' led him to collaborate with Laura Kikauka and Bastiaan Maris in establishing The Glowing Pickle (Berlin, 1993-95), an electronic surplus store using 20 tons of discarded East German scientific equipment, parodying both communist and capitalist cultures. He also collaborated with Laura Kikauka to produce the infamous Berlin underground club Schmalzwald (1996-2000). He is electric organist with the lounge band Fuzzy Love, who released their first CD Pagan Schmalz and Other Sacrifices in 2000. Fuzzy Love has performed at such venues as Haus der Kulturen der Welt, Berlin, Festival of Vision, Hong Kong, and the 2001 Venice Biennale.
Gordon Monahan won First Prize at the 1984 CBC National Radio Competition for Young Composers, as well as commissions from the Vancouver New Music Society; CBC Radio; Dade County Art in Public Places, Miami; The Kitchen, New York; the DAAD Inventionen Festival, Berlin, the Donaueschingen Musiktage and the Sony Center, Berlin. His controversial commission for the Dade County MetroRail transit system was banned during the 1988 New Music America festival in Miami. That same year, Monahan was chosen as CBC Radio's entry to the International Rostrum of Composers in Paris. Monahan has been Artist-in-Residence at the Banff Centre for the Arts (1990), the Exploratorium in San Francisco (1991), D.A.A.D., Berlin (1992-93), the Western Front, Vancouver (1999), Podewil, Berlin (2002)and a fellow with the New York Foundation for the Arts (1991).
He has independently released several LPs ,CDs, and videotapes of his work. He also appears on the Electra/Nonesuch CD compilation Imaginary Landscapes: New Electronic Music. His first solo CD was released on Swerve Editions (Zone Books) in 1992. His videotapes are distributed through V-Tape (Toronto), The Kitchen (NY), and Verge (Peterborough, Canada). Monahan's written texts have been published in Musicworks (Toronto), Ear Magazine (New York), and Zeitschrift für Neue Musik (Frankfurt-Main). Interviews with the artist have appeared in MusikTexte (Cologne) and Be Magazine (Berlin).