Artist Details: Guilty Connector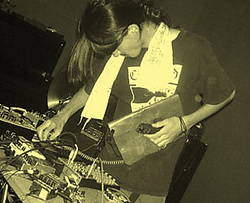 A Japanese hybrid human/noise-machine that creates noise-scapes of unfathomed depths. Banging hand-made noise generators aka "
SHIBAKI
Electronics" made of iron plates, he creates and liberates dazzling spectra of sounds, from ultra-fast extremely trippy harsh barrages to meditative spacy sounds. Experience the roar of his live electronics with your own flesh.
Releases and items by Guilty Connector
CD: $8.00
Ground Fault
Side Cosmic Trigger: 01. "Cosmic Trigger Pulled at Koenji Space-Station" 02. "Straight to Taisho" 03. "Skunked Result" 04. "666 Koenji Awamori Tri...