Artist Details: Jean-Luc Guionnet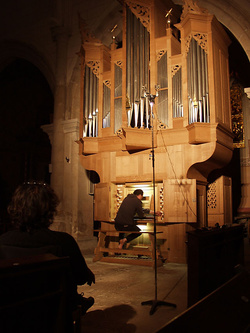 Jean-Luc Guionnet, born in Lyon now living in Paris, has formally studied Electa-acoustic music at the Boulogne-Billancourt Conservatory as well as the Pantin Conservatory in France. While working on his Bachelors Degree at the Sorbonne School of Art in Paris, Jean-Luc started recording with good friend Andrè Almuro. Soon after while working on his Masters degree he started working with fellow French Electra-acoustic musicians, Éric Cordier and Éric La Casa. In addition to music he has worked in the experimental film field.
Jean-Luc Guionnet is not a highly prolific recording artist; only about 16 recordings to over a 10 year span, but the quality of his recordings are top notch. Two of the recordings on Axène were recorded 10 years ago and were never released. After first hearing them I was amazed that the have never been heard by the public. They are absolutely brilliant recordings that the public has unfortunately missed out on for all these years. I am very proud to bring these recordings to the surface for all to hear.
Axène is catagorized as Series I, but don't let that fool you. While a good part of this CD is rather quiet, it does build to a fever pitch while never losing its smoothness. Erik Hoffman
"It is a little strange to find a CD by French electroacoustic artist Jean-Luc Guionnet on the noise label Ground Fault, but then again musique concrète can be seen from an avant-garde noise perspectives. The three extended (16 to 28 minutes) works included on Axène were created between 1989 and 1996 and had not been released before. In "Ivraie/Baragnes, " recorded for an André Almuro film by the same title, and "Ressac/Ressac", the composer favors textures over plasticity. Both pieces have drones, water and wood sounds, at their basis. Non-linear, these sound events are meshed together to form the soundtrack of a trek of some kind. Concrete and synthesized sounds intervene, arousing new imageries. "Ressac/Ressac" is embedded in a strong ocean theme (ressac = undertow), waves of sounds slowly approaching to gracefully come crashing at the listener's feet. Slotted between these two works, "Axène" becomes all the more academic and cold. This piece follows more traditional esthetics of sound sculpting, INA-GRM-style. It lacks movement and ambition to really captivate. But the two longer pieces are definitely worth hearing, especially for those favoring atmospheric electroacoustics" François Couture
Releases and items by Jean-Luc Guionnet

CD: $8.00
Ground Fault
Track 1 - Ivraie/Baragnes .......... 27'14" Track 2 - Axène .......... 15'54" Track 3 - Ressac/Ressac .......... 28'13" Jean-Luc Guionnet, born in...