Artist Details: John Wiese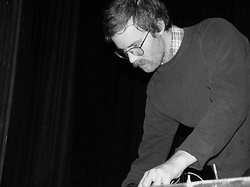 John Wiese
Born: 18-Apr-1977
Birthplace: St. Louis, MO
Gender: Male
Ethnicity: White
Occupation: Musician
Nationality: United States
Executive summary: Power noise musician
Started making noise when he was 14. Works both under his own name and as Sissy Spacek. Member of Bastard Noise. Has collaborated with Merzbow, Sunn O))), Wolf Eyes, and Dead Machines, among others. Currently based in Los Angeles.
Official Website:
http://home.earthlink.net/~johnwiese/
Releases and items by John Wiese
CD: $8.00

Helicopter
An excellent compilation of material from the newest member of Bastard Noise and the guy behind the Helicopter label. About 70 % of this record ...