Artist Details: Keiji Haino / Masami Akita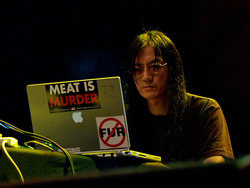 Haino Keiji born 1952 in Chiba, Japan, and currently residing in Tokyo, is a Japanese musician whose work has included rock, free improvisation, noise, singer-songwriter, solo percussion, psychedelic, minimalism and drone styles. He has been active since the 1970s and continues to record regularly and in new styles.
Merzbow (メルツバウ) is an extreme experimental music project created in Tokyo in 1979 under the direction of musician Masami Akita (秋田昌美) and is recognized as being one of the earliest projects in what has become known as the 'Japanese noise scene'. Highly prolific, Merzbow has released over 300 CDs, LPs and cassettes since 1979.
Releases and items by Keiji Haino / Masami Akita

Victo
"Two living legends of extreme Japanese music sharing the stage for the first time outside their country." This is a document of their live collab...