Artist Details: Kristian, Shalabi, St-Onge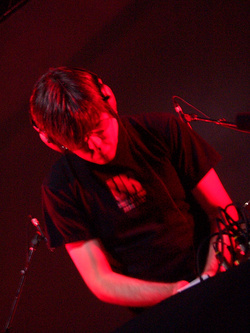 Up until now only a few hundred people have
ever heard this Montreal improv supergroup
on the two occassions they performed live.
Composed of David Kristian on synth, Sam
Shalabi on oud and Alexandre St-Onge on
double bass, the trio recorded several times
over the course of a few months at Kristian's
Mermaid Room studio. This CD is the result of
those sessions, an amazing blend of analog
electronics and acoustic instruments.
Releases and items by Kristian, Shalabi, St-Onge

Alien8 Recordings
Alien8 Recordings is releasing the studio recordings from the trio of David Kristian on EMS VCS-3 synthesizer, Sam Shalabi on guitar and oud, and A...