Artist Details: L/A/B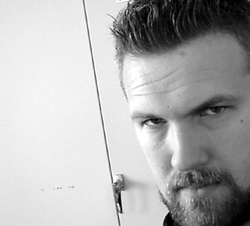 Petri Laukka (B: 1971)
Hailing from Värmland in Sweden, Petri is a musician/scientist who has been working with music in many shapes. He appears in several constellations as a composer and drummer; for instance in the electronic pop act Rundfunk, the improv collective ODA, and several jazz ensembles. As PIII he's mainly involved with sound art. Petri has toured throughout Europe and has contributed to numerous recordings. His academic interests lie in exploring how music affects people psychologically, and he has published several articles on the psychology of music.
Jonas D Aneheim (B: 1971)
Born and raised in Karlskoga, Jonas D Aneheim started early on to explore the nature of the musical universe. After various musical projects he left Sweden for advanced musical studies at Musicians Institute in Los Angeles CA. Once back in Sweden he teamed team up with Henrik N Björkk and Jouni Ulvtharm and formed the new MZ. 412. During that period he also started exploring the world of electronic ambient music as Sublime Musing (SM). The first and, so far, only SM album, "Symmetrical Sodomy" (1997), is an excellent showcase of his inherent creativity.
In 2002 he teamed up with Uppsala based scientist/artist K. Meizter and formed the duo Beyond Sensory Experience, BSE. With BSE they set out to find all-embracing correlations between numbers, life and music. The first stage of this search was concluded during 2003 with a trilogy series (Tortuna-Urmula-Ratan) released on Old Europa Café. He is also a member of the improv collective ODA where he delivers guitar art and feedback. All in all Jonas have more than 15 albums under his belt
Henrik N Björkk (B: 1971)
Henrik N Björkk has been an active musician ever since the mid-eighties when he was one of the pioneers of the Swedish industrial music scene. He is today probably one of the most prolific artists in his field with more than 50 releases behind him.
Mostly known for his involvement in noisier projects such as MZ. 412 and Folkstorm back in the early nineties, he has in recent years drifted towards the ambient / electronic / research field. Noteworthy is his 8 CD Sleep Therapy project that focuses on altering sleeping patterns and dream imagery, and his ambient albums "On broken wings towards victory" and "Awaken".
Recent releases include a collaboration with Merzbow, "Partikel", and the solo album "I end forever".
Releases and items by L/A/B

CD: $8.00
Ground Fault
Live improvisations on electronics and mechanics treated with scientifically approved methods; together with composed sections interpolated with so...