Artist Details: L'Infonie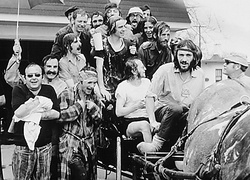 infonie
With 33 artists, all lucid dreamers, L'Infonie became a polyvalent spectacle with paintings, sculptures, theatre, poetry, and music (popular, concrete, electronic and contemporary, folk and free jazz).
Releases and items by L'Infonie
CD: $14.00

Mucho Gusto
I don't know where the Mucho Gusto label finds this wild stuff. L'Infonie was a Quebec based band that released four albums, this being the first, ...