Artist Details: Loren MazzaCane Connors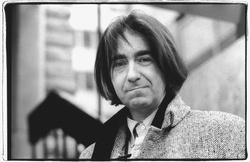 "Outside of Derek Bailey and John Fahey, I've never heard such purity in guitar playing."

– Jim O'Rourke – Taken from the liner notes of Loren MazzaCane Connors' Long Nights released by Table of the Elements.
Loren MazzaCane Connors is a gifted guitarist that has been recording his uniue style of playing for more than a couple of decades now. During this time he has also recorded under the name Guitar Roberts. Now more than ever Loren MazzaCane Connors is getting his due recognition. His recorded output is quite staggering, having somewhere in the vicinity of 30 releases on different labels on various formats.
During his career he has collaborated with many great artists including Keiji Haino, Jim O'Rourke, Thurston Moore, Rafael Toral, Ikue Mori and also No Neck Blues Band/Test member Mathew Heyner on In Twilight..
Releases and items by Loren MazzaCane Connors

CD: $9.00
Alien8 Recordings
Like many of the artists we have been working with here at Alien8 Recordings, Loren MazzaCane Connors is a rather prolific musician. Over the last ...