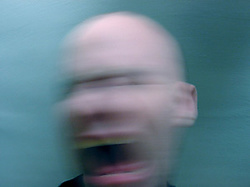 They did it once, and it worked brilliantly, so they decided to do it again… and again. Maja Ratkje and Lasse Marhaug, both established avant-gardists, noise terrorists, relentless sonic explorers, are in their own right admired for their respective body of work. Their first documented collaboration, Music For Shopping, released on limited edition vinyl two years ago, saw their worlds collide in majestic effusions of noises. Investigating sonic terrains familiar to both of them, yet meeting somewhere between their respective grounds, this album was a mind opening experience, even for seasoned noise aficionados.
Two years on, it is not one but two further collaborations, released in the space of just over six months, which the pair is presenting. Music For Loving, published on German label Bottrop Boy, was the first to appear, mid 2004, while Music For Faking is now being released on Canadian imprint C3R. Recorded live in Oslo in just one day each, in November 2003 and July 2004 respectively, with no overdubs, both albums are delivered raw and untouched.
The cover of Music For Faking pictures two grinning faces, illustrating the playful atmosphere of the collaboration between Ratkje and Marhaug. Although both accomplished and respected musicians, they refuse to take themselves, or their art, seriously, preferring instead to continuously challenge each other into more staggering assemblages. Collecting interferences, field recordings, processed noises, samples, and other sound sources and amalgamating them all, Ratkje and Marhaug confront traditional perceptions of music, firmly placing their work out of context and focussing on the essence of improvised music. This results in both albums being incredibly organic, with sonic textures, ranging from silky analogue waves and highly polished digitalised noises to abrasive distortions, treated vocals – including screams – and radio interferences, continuously provoking cutaneous reactions. It is difficult to disassociate these two albums, so close are they in essence. Both Music For Loving and Music For Faking provide dense atmospheric soundscapes, and both are equally frisky. However, of the two, Music For Loving appears slightly more contrasted, in part rougher, more abrupt than its follow-up, and elsewhere softer, more delicate. Yet, the soundscapes of both records constantly fluctuate between sonic assault and delicate restraint, often in a same piece and often without warning.
Perhaps not records to put in every hands, these collaborations between two of the most important experimental musicians of their generation are equally as intriguing, challenging and impressive not only by the scale of these records, but also by the sheer joy that transpires from their relationship. Noise can be fun, and Maja Ratkje and Lasse Marhaug prove it again and again.