Artist Details: Merzbow Pan sonic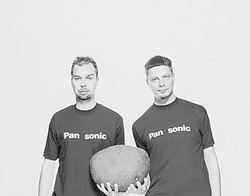 Merzbow (メルツバウ) is an extreme experimental music project created in Tokyo in 1979 under the direction of musician Masami Akita (秋田昌美) and is recognized as being one of the earliest projects in what has become known as the 'Japanese noise scene'. Highly prolific, Merzbow has released over 300 CDs, LPs and cassettes since 1979.
Pan Sonic (they were called Panasonic before but had to change their name in 1997 due to legal issues with the Japanese electronics company) are two guys from Finland. Mika Vainio and Ilpo Vaisanen, who started out with long-term, low-frequency, high-decibel experiments and organizing rave partys where "hardly anything happens ever" (a.k.a. Finland). The minimalistic music of Pan Sonic is composed "from a forbidding array of pure tones, sinewaves, pulses, electronic squelches and ultrasonic waveforms," and a humorous attitude, "skilfully arranged into an accessible rhythmic package" mainly taken from the bowels of custom-built sinewave generators. Given songs titled "Kurnutus" or "Rutina" (that is "Croaking" and "Crackle"), the environmental buzz, crackles and hums emanating from the speakers are harldy a surprise. Despite suggesting a harmless set of natural (sounding) frequencies, Pan Sonic have built up a reputation for fearsome live volume levels and atonal indulgence.
Mika Vainio, Ilpo Väisänen make up the Pan Sonic line up since Sami Salo (Hertsi), the former third member of Panasonic, left the band in 1996.
Releases and items by Merzbow Pan sonic

Victo
Recorded live at Victoriaville in 2003, this uncompromising collaboration between two revered acts in the scene features one 68-minute piece perfor...