Artist Details: Mitchell Akiyama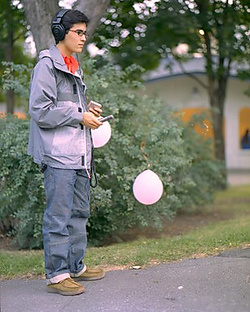 Toronto born, Montreal based Mitchell Akiyama in a few short years has carved a niche for himself as one of Canada's premier avant-garde electronic musicians. Originally trained in classical music and jazz on piano and guitar, Akiyama began composing electronic music five years ago. He has since come to incorporate traditional instruments and real world sound sources in his compositions, fusing the organic and digital. the results can be beautiful and lush, jarring and abrasive, but are, above all, always moving. 'Hope that lines don't cross' on Alien8 Recordings', sublabel Substractif, was lauded by critics and became a staple on college/alternative radio charts in north america and europe. 2002 will prove to be a big year for Akiyama. He recently finished a collaborative album with Cincinnati based Joshua Treble. The project, 'Desormais', is rooted in experimental, noisy terrain but is full of jagged beauty. It will be released on Akiyama's Intr_version imprint in the spring of 2002. As well, Akiyama's new solo album, 'Temporary music' will be released early this year on prestigious german label Raster-Noton. The record is a collection of fragments – shards of pianos, pieces of field records, digital interuptions… all pieces are homages to places and people whose images have changed and faded over time. temporary music is a representation of the ephemeral nature of experience and the instability of memory. Akiyama has played extensively in europe and North America at festivals such as Sonar and Mutek alongside the likes of Oval, Francisco Lopez, Kit Clayton, Pole, Jetone and Tomas Jirku.
Bio Courtesy Sinewaves.it
Releases and items by Mitchell Akiyama

Download: $7.99
Substractif
Alien8 Recordings is launching it's new sub-label, Susbstractif, with a release by newcomer Mitchell Akiyama. Montreal, Quebec is quickly establis...