Artist Details: Monstre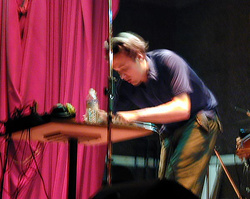 Monstre is a vocal aritst from Montreal who has been playing live and release recordings of his unique take on noise and pop using his voice and electronics. Monstre is one of the most interesting live acts currently operating in the bustling local underground, with performances ranging from full-on noise assaults, to Balinese style jams, quirky electro-pop to psychedelic-style freak outs! He released his Sucre 3 CD in the spring of 2001.
Releases and items by Monstre
CD: $8.00
Download: $4.99
Alien8 Recordings
Montreal boasts quite an exciting improvised/underground music scene these days, popularized by the likes of GYBE!, Shalabi Effect, Fly Pan Am, Dav...