Artist Details: Muslimgauze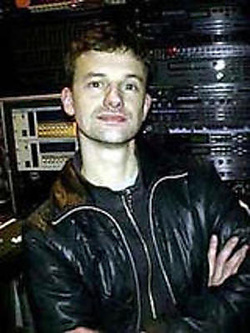 Bryn Jones was not a practicing Muslim and never went to the Middle East. His recordings as Muslimgauze, however, qualified him as one of the Western artists most explicitly slanted in his favor of the Palestinian liberation movement. Since the Manchester-native's works were instrumental, most of the political statement was inherent in the packaging: Witness titles such as Fatah Guerrilla, Return of Black September, Hebron Massacre, Vote Hezbollah, United States of Islam and The Rape of Palestine. Jones could have been a potentially controversial figure if his releases were available in anything except severely limited editions — usually less than one thousand copies of each. Despite their lack of prominence, Jones' blend of found-sound Middle Eastern atmospheres with heavily phased drones and colliding rhythm programs were among the most startling and unique in the noise underground.
Formed in 1982 to protest the Israeli invasion of Lebanon, Muslimgauze's first release was the Hammer & Sickle EP, which appeared in 1983 as a response to the Soviet invasion of Afghanistan. During the 1980s, Jones averaged almost two Muslimgauze albums per year, plus additional EPs and limited releases (of 500 copies each). With 1990's Intifaxa he earned his first release on Extreme Records, an American label with releases by Robert Rich and Paul Schütze. Five albums followed for Extreme in the next four years, while a half-dozen were released on the Dutch Staalplaat, distributed in the States as well through Soleilmoon. As the decade progressed, Muslimgauze's output became even more concentrated — five albums in 1994, six a year later, and an unbelievable eight LPs in 1996. The experimental/noise underground increased in visibility during the late '90s, with Muslimgauze productions gradually encompassing heavier beats and a style close in execution to post-industrial beat-heads Techno Animal, Download and Scorn. The Muslimgauze project ended tragically in 1999 when Jones died suddenly of a rare blood disease. A number of posthumous releases including Lo-Fi India Abuse (partially a collaboration with dub collective Systemwide) and the nine-disc Box of Silk and Dogs soon followed.
~ John Bush, All Music Guide
Releases and items by Muslimgauze

CD: $15.00
Essence
Armsbazzar investigates both released and unreleased selected recordings from the intense period comprised between 1994 and 1997. Included are the ...