Artist Details: Pharaoh Overlord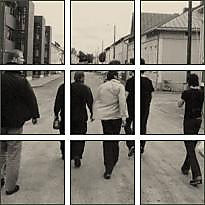 "The other day a mail order customer called up and ordered Finnish post-rockers Circle's tUMULt release "Andexelt", and also "Ciudad de Brahman" by Argentinean stoner-rock outfit Natas. I immediately suggested that he also get a copy of this debut CD by Pharoah Overlord, which, being the "stoner rock" project of Circle's Jussi Lehtisalo, is pretty much a perfect cross between the hypnotic riff-repetition and rhythmic pulse of Circle and the super heavy stoner vibe of Kyuss-worshippers Natas! Jussi describes this project (which also includes the guitarist from Bad Vugum band Sweetheart) as being "hypno-improv-stoner-rock from Finland (file under psychedelic)" and we'd have to agree, that's the honest truth. It's VERY psychedelic in the most head-noddinest of ways, really not that far removed from the heavier Circle output, but with more of a stoner sensiblity that should definitely appeal to fans of Kyuss and the like. The jams on here also hark back to 70's greats like Pink Floyd and Ash Ra Tempel. It's all instrumental, all mesmerizing, totally great. Everytime we play it in the store people ask what it is, it's that good. Definitely if you're already a sucker for anything Circle (like us!) you'll want it, and stoner/space rock fans should also be very very happy with this disc. Oh, and yes, it's called Pharaoh Overlord, how cool is that? Released in the US via Andee's tUMULt label."
Releases and items by Pharaoh Overlord
CD: $15.00

Ektro
Another one to file under "NWOFHM"! New Wave Of Finnish Heavy Metal. That's Pharaoh Overlord/Circle bassist Jussi's little joke. Only now it's gone...