Artist Details: Profundi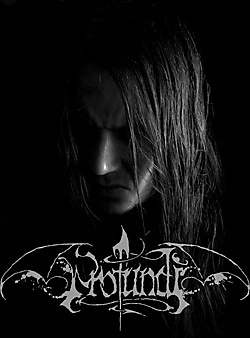 Before the melodic death/black metal explosion came to the fore, its birthplace of Sweden harboured several groundbreaking acts that would help spearhead such a movement with such acts as Dissection, In Flames, Dark Tranquility, Dawn, and of course At The Gates coming to the fore. NAGLFAR were another such act that was known to help spearhead such a movement, their debut album "Vittra" being a classic unto itself.
But one of the defining characteristics that helped shape Naglfar's persona was the venomous and blistering vocal attack of ex-singer Jens Ryden, easily one of the best singers to emerge from such a scene.
Little did many know though that Ryden was indeed an artist of many trades (he is also an exceptional graphic designer as well), a renaissance man of sorts within the Swedish scene. With his first solo venture, Dead Silent Slumber, Ryden (with his 1999 album "Entombed In The Midnight Hour") proved that along with being Naglfar's vocalist, he was also a well-rounded musician in his own right and had the talent to express other musical visions that went beyond Naglfar.
Since leaving Naglfar, Ryden has resurfaced with his new vicious and abysmal vision. Going under the moniker of PROFUNDI, where Ryden handles all the instruments (and has created all the artwork likewise), this encompassing work of pure, virulent, and primal (melodic) extreme metal art is a reflection to a time when such music was respected and revered in the Swedish scene within the mid-nineties. "The Omega Rising", an album in which Ryden stresses is a whole new expression for him, sees the musician take his experiences that he embellished in his former band and thrust them towards more brutal, hateful, atmospheric, and lacerating realms, further within the depths of the screaming abyss.
PROFUNDI Profound Lore Discography
Releases and items by Profundi

CD: $13.00
Profound Lore
Finally out, Jens Ryden's first musical output since leaving legendary Swedish death/black metal band NAGLFAR, and his first solo venture since DEA...