Artist Details: Prurient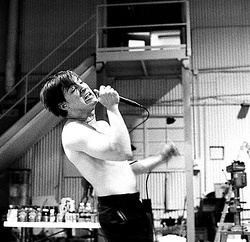 Prurient is the nom de plume of noise musician Dominick Fernow. He has released material on numerous independent record labels, such as American Tapes, Hanson Records, RRRecords, Load Records, Troubleman Unlimited, Chrondritic Sound, and his own label Hospital Productions. In the 2000s, Prurient has become one of the most well-known and influential names in the noise field, having been covered in outlets such as Pitchfork Media and The Village Voice.
Fernow works primarily with a microphone and amplifier, and little else. On some releases he has been joined by Ben Bartlett, Richard Dunn, Jeff Plummer, Kris Lapke, Wolf Eyes, and Emily Salvatierra. Fernow grew up in Wisconsin but now lives in the Bushwick section of Brooklyn. As a teenager he was awarded the rank of Eagle Scout in the Boy Scouts of America.
Releases and items by Prurient

CD: $10.00
Ground Fault
Shipwrecker's Diary 01: +shoestring+ 02: +shin+ 03: +calf+ 04: +belt+ 05: +finger+ 06: +palm+ 07: +elbow+ 08: ...