Artist Details: Sickness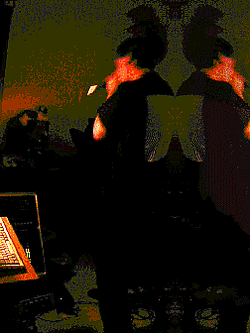 Harsh noise is often misunderstood as nothing but a collection of distortion and rumbles which are layered, piled, spliced and smelted together in a wall of obnoxious sound for the masochistic listener. People give it five minutes or less on their stereos and then file into the ANOTHER NOISE release. I think this release draws the listener in a bit closer and gives more explicit impact to what one of the many different meanings to HARSH NOISE is and can be, while expressing how most noise should be. It in most aspects represents what I think many people would expect a new standard for people releasing noise should think about accomplishing and help redefine what critics of noise think about it. Most importantly, lead people to look into noise more in depth rather than brushing it off as an other HARSH NOISE RELEASE.
He has been one of those not-so-new-comers who has consistently proved to the countless critics and skeptics that there is a real desire to experience through his harsh audio communication… the chaos and control of what is truly Sickness. Chris himself, will tell you like it is, the noise speaks for itself.
Now, tracks 2 and 4 are my personal favorites. They are the most haunting harsh noise I have ever heard, bleeding high pitched frequencies with crushing grumbles and well orchestrated loops that loom though you like the fog at the old abandoned graveyard on the hill… Spooky shit! Still each piece of the entire CD uses a complex mix of sound, silence, repetition, chaos and tranquility. Be sure to listen to the last track at maxim volume to experience this fully.
Sickness's new full length CD on Ground Fault is for those wanting to experience the mind set of what the true artist breaths. To see what can be done with Harsh noise, and what a release from this genre should really be: Feeling it through the manipulation of harsh sound, along with the listeners eception… one can and will only imagine their own mind trip as they listen to what I sincerely think this is Christopher's most passionate and searing work to date. This clearly conveys to the audience the complexity that is true harsh noise, and above all, Sickness.— Joe Lombardo
Sickness Discography
1986-2002
SICKNESS: Bullet in the Brainpan Tape – Ninth Circle Music
SICKNESS: Noise Infinite Noise Tape Limited: 33 – Ninth Circle Music
SICKNESS: Retiscence Comp. "The Sound of Some Body Burning"
SICKNESS: Underneath it All, it's Rotting Tape Limited: 25 – Ninth Circle Music
SICKNESS: RRR 500 Lock-Grooves LP – RRR Records
SICKNESS: Live at RRRecords Tape – Ninth Circle Music
SICKNESS: Recycled Tape – RRR Records
SICKNESS: No One Cries for the Death of a Disease CDR – Ninth Circle Music
SICKNESS/M.N.S.: "Six String Samurai" CDR – Ninth Circle Music
SICKNESS Voyeurism CD – Ninth Circle Music/Mp3.com
NOISE TODAY COMPILATION – "Obsess over me Part 2" Noise Today
ANTS ON A LOG COMPILATION – "Siamese Tongue Kiss" Hospital Productions
NOISE CONGLOMORATE VOL. 3 – "Blood on my Hands"
SICKNESS "Sought for Slaying" Special Edition Box CDR Lim.: 25- Ninth Circle Music
SICKNESS/ GASOLINEMAN "Split" CDR – Out Records
V.D. "Venereal Lust" (SICKNESS/TAINT collaboration) CDR – Ninth Circle Music
SICKNESS/PRURIENT "Mundane" CDR – Hospital Productins
SICKNESS/NEVERPRESCENCEFOREVER "SPLIT" C20 – Troniks
SICKNESS "Summer of 85" 3" CDR – Ninth Circle Music
SICKNESS/PHROQ "Dedicated to Romain Slocombe" CDR Aka Yuki Records
ANALOGOUS INDIRECT Compilation LP "She's Laughing at Me" Public Eyesore
SICKNESS/GRUNT: "Symptoms of the Disease" CDR – Ninth Circle Music
SICKNESS "Another Lamb for the Slaughter" CDR – Solipsism / Self Abuse
"RECONSTRUCT THE CAOS #2" Compilation – "BloodHunger"
SICKNESS/TAINT/SKIN CRIME "Behind the Smile" CDR – Self Abuse
SICKNESS/FACIALMESS "Abomination" CDR – Audio Intruder Pain
OMEI "Black Eyed Angels" CDR – Solipsism / Self Abuse
"BEAST "- STEGM, PRURIENT, SKIN CRIME, SICKNESS- CD -Hospital Records
PORN HURTS Compilation – "One for the Girls" CDR – Biteworks
Releases and items by Sickness

Ground Fault
"This is one of the most brutal CDs I've heard in a long time. Sickness has been around for about 10 years and I never really took notice until I ...