Artist Details: Soft Canyon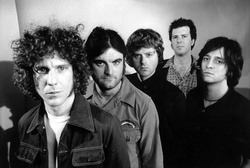 Soft Canyon is the coming together of rock and roll's journey. This is rock music which is timeless, aesthetically beautiful, texturally and sonically extraterrestrial. The group's debut recording, "Broken Spirit, I Will Mend Your Wings" is a hurricane of joy and despair, love and redemption.
Within it's one year of existence Soft Canyon's membership, Andrew Dickson (Tricky Woo), Phil Burns, Jason Kent, Jason Tustin (Local Rabbits) and Dave Lavoie have garnered cross-Canada accolades for a burning live show which gets brought to new heights each night. In all of rocks majesty and hope for a six string nation, Soft Canyon bring the music to you.
Releases and items by Soft Canyon
Alien8 Recordings
Announcing Alien8 Recordings' latest signing and the first release from Montreal's very own Soft Canyon, Broken Spirit, I Will Mend Your Wings. We ...