Artist Details: Sutcliffe Jugend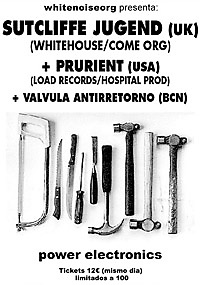 Sutcliffe Jugend
Sutcliffe Jugend were formed 1980-81.
Along with Throbbing Gristle, SPK and Whitehouse, and others SJ were amoung the earliest pioneers of Industrial/Noise/Power Electronic noise music.
Extreme both musically and lyrically, the sheer brutality of Sutcliffe Jugend's music has rarely been equalled.
The first live appearance by Sutcliffe Jugend was at the Red Rose London 27th August 2005. The show was filmed for Redemption TV. A cd of the whole performance 'Live Assault 01' is available on RRRecords.
"(1980's): Sutcliffe Jugend were one of the early pioneers of extreme electronic music. The intensity of their early releases has rarely been equaled. Kevin Tomkins joins Whitehouse for a short period from 1982………. (1990's): Kevin and Paul then released four albums as Bodychoke. Three Sutcliffe Jugend albums and the single XI are released, culminating in The Victim As Beauty……….. (2000's): Kevin Tomkins and Paul Taylor release a series of experimental and ambient albums. Sutcliffe Jugend perform live for the first time, more dates follow……….. (2007): The first Sutcliffe Jugend album in eight years THIS IS THE TRUTH released. Their most accomplished and complete work to date. Released by Ground Fault Recordings and Hospital Productions in February/March. A new limited vinyl release TRANSGRESSION including the epic title track is recorded in preperation for a tour of Japan in April"
Personel:
Kevin Tomkins: Vocals, Instruments
Paul Taylor: Instruments
Releases and items by Sutcliffe Jugend

Hospital Productions
the fall of nature is a epic, grandiose drone piece almost one hour of pure electronics that echoes the masters of the form. the album grows in int...

Ground Fault/Hospital
Sutcliffe Jugend "This Is The Truth" CD The first new recordings from Sutcliffe Jugend in over 8 years. Sutcliffe Jugend began in 1982 as a sub-pro...