Artist Details: thisquietarmy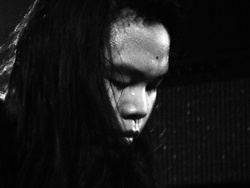 thisquietarmy is the ambient/drone project of Eric Quach, from Montreal's post shoegazer band Destroyalldreamers. His guitar-based sonic experimentations challenge the boundaries of the conventional guitar-drone mould by combining both non-frigid song structure and ambiance together, blending layers of textures over textures, merging faint growing melodies in a beautiful sea of noise and tightening loose ends together. thisquietarmy's established body of work reveals a large variety of sonic styles, ranging from dark drones to psychedelic shoegazing and post-rock.
Following the release of several EPs and tracks on various imprints, thisquietarmy has released his first two albums Unconquered and Blackhaunter on Foreshadow Music (Poland) and Elevation Recordings (USA) respectively, both in 2008. A Picture of a Picture, a collaborative album with Nadja's Aidan Baker, was released earlier this year on Killer Pimp (USA) and an European tour with Nadja will follow in June 2009.
Releases and items by thisquietarmy

Download: $4.99
Alien8 Recordings
thisquietarmy's _Transmissions_ is a conceptual soundtrack to Christy Romanick's _Very Large Array_ book, which features a series of colored photog...