Artist Details: Vitaminsforyou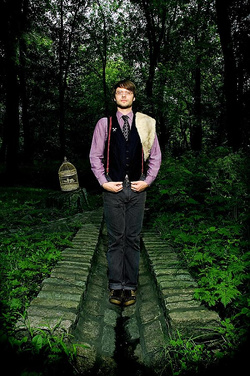 Both a product of Winnipegs rich experimental electronic music community and their uncompromising indie-rock scene, Bryce Kushnier under the guise of vitaminsforyou has been creating music for all contexts since 1998. His unique sing-along sound might evoke whispers of the Postal Service, Manitoba/Caribou, or Schneider TM, but 99% of listeners agree that theyve never heard anything resembling his shy plundering of pop, psychedelia, fey techno, and folk. Vitaminsforyous first album, Im Sorry Forever and For Always (intr_version, 2003), was a quiet hit with taste-making publications from The USA to Germany such as the Wire, Stylus, and De:bug amongst many others. The success of the album propelled him, along with then-fellow Montrealers Ghislain Poirier (also of intr_version and Chocolate Industries) and Montag (Carpark), on a Canada-wide tour.
Vitaminsforyou has also earned a small following (that could be described as obsessive) performing at Muteks Canadian and Mexican editions, Vancouvers New Forms Festival, and Winnipegs Send and Receive Festival. Locally hes supported the Notwist, Schneider TM, Tim Hecker, Polmo Polpo, and so on. His credits also include work with Justin Smalls (of Do Make Say Think) group Lullabye Arkestra; Mitchell Akiyamas Dsormais and Avia Gardner projects; production for Montreals Hexes and Ohs (Noise Factory Records) Emm Gryner, and collaborations with Mike Feuerstack (Wooden Stars, Belle Orchestre, Kepler & Snailhouse); original music for Winnipeg Filmmakers Matthew Etchies and Kiera Dannell; and scores for Montreal choreographer Andrew Tay, Sasha Kleinplatz and Dana Michel.
In the almost three years since his last full-length Vitaminsforyous EP Dsol monsieur soleil, cest la neige qui va me librer (intr_version, 2005) has given listeners a taste of the complex and ravishing things that have been brewing. His upcoming full-length, The Legend of Birds Hill due out Summer 2006, is his most intricate and dizzying work yet and a nod to one Manitobas most beautiful, diverse and inspiring parks just minutes north of the Winnipeg perimeter. Featuring contributions from Ghislain Poirier, Emm Gryner, his occasional band the Wednesday Afternoon Players, and other members of the Canadian music landscape, this album dives deeper into the psychedelic waters Vitaminsforyou has been testing for some time. Carrying over are the lush arrangements, shy vocals, and intoxicating melodies that make Vitaminsforyou a unique and indispensable element of Canadian music.
Releases and items by Vitaminsforyou

CD: $15.00
Download: $7.99
Intr_version
The Legend of Bird's Hill is Vitaminsforyou's most intricate and dizzying work yet and a nod to one Manitoba's most beautiful, diverse and inspirin...