Artist Details: Whisper Room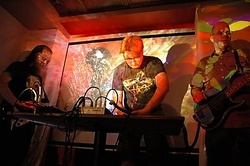 Whisper Room is a trio based in Toronto, Canada featuring Aidan Baker of Nadja on guitar/effects, Neil Wiernik of NAW on bass/laptop and Jakob Thiesen of Students on drums/electronics. These three creative minds have moved in similar musical circles in Toronto and Montreal for many years, sporadically playing together and/or sharing stages, but did not actively come together to play as a trio until December 2006. Since then, they have performed and recorded around the Toronto area, working as an improvisational unit and combining their disparate musical backgrounds to create music which explores the conjunction of electronic rhythms and textures with the pulsations and psychedelics of shoegaze and krautrock music. The culmination of this effort is what you now hold in your hands. Birch White. Baker is a writer and classically trained musician from Toronto. His primary instrument is the electric guitar, which he uses to create music that ranges from experimental/ambient to post-rock to contemporary classical. e has released numerous albums with such labels as Alien8 Recordings, Conspiracy Records, Die Stadt Musik, and Drone Records both as a solo artist and with his group projects, ARC and Nadja. Thiesen is also based in Toronto and is the drummer for The Airfields as well as making techno under his own name and in the project Students. He is a sound designer and foley artist by trade. Montreal ex-pat Wiernik who currently calls Toronto his home, began composing electronic music in 1988 with explorations in audio art and experimental music. His interest in sound and technology has led him to a continued questioning and refinement of audio tools and modes of production resulting in-experimentation with altered instruments, modified devices, and custom software environments. The sound design of naw is firmly grounded in the rich traditions of dub studio culture but can also be weighed alongside formal contemporary composition. Wiernik has collaborated with countless artists over the years and released his ownn solo material under the NAW moniker on various labels including Canada's own Noise Factory Records. All three of the members met in 1999 at The Ambient Ping by being occasionally slotted on the same bill. It's through these shows, playing separately or some times collaboratively, that they slowly became friends and eventually began to sit in on each others sets as guest artists. A last minute show in Dec. 2006 saw the first appearance of Whisper Room as a band. After that first show, it was clear to all that the dynamism among the trio should be explored and thus, the fruition of this friendship and musical exploration. Birch White.
Releases and items by Whisper Room

CD: $12.00
Elevation
Whisper Room is a trio based in Toronto, Canada and Berlin, Germany featuring Aidan Baker of Nadja on guitar/affects, Neil Wiernik of NAW on bass/l...