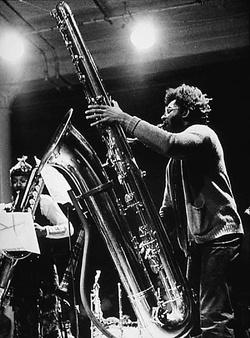 Anthony Braxton's: Bio
Chicago's saxophonist Anthony Braxton (1945) was the "creative" musician who displayed the most obvious affinity with western classical music, scoring chamber music (both for solo instrument and for small ensembles), as well as orchestral music, that seemed aimed at extending the vocabulary of European music rather than the vocabulary of jazz music. If his was jazz music, it was the most cerebral jazz ever.
Better than any other jazz musician, Braxton represented the quantum leap forward that jazz music experienced after free jazz opened the doors of abstract composition. The music that was born as an evolution of blues and ragtime suddenly competed with the white avantgarde for radical redefinitions of the concept of harmony. Following in the footsteps of John Cage and Karlheinz Stockhausen, Braxton introduced new graphic notations to capture the subtleties of his scores, and even titled his pieces with diagrams instead of words. He invented new ways of composing and performing music. He also loved to write about his musical theory.
As a virtuoso of woodwind instruments (particularly of the alto saxophone), Braxton worked to extend the timbre and the technique. But, unlike his predecessors, Braxton was motivated by science rather than by emotion. Originally inspired by John Coltrane, he impersonated Coltrane's antithesis.
Wolf Eyes: Bio
Drawing from such disparate sources as Throbbing Gristle, Black Flag, and King Tubby, the Michigan trio Wolf Eyes create harsh and hypnotic electronic landscapes that merge the frenzied energy of hardcore with the nihilistic menace of early industrial and noise. Constant touring in the early 2000s brought the group a strong cult fan base and opened the hermetic world of the noise underground to a new generation of curious indie rockers, punks, and experimentalists.
Initially, Wolf Eyes was the solo moniker for Nate Young, vocalist and chief instrument builder of the group. Young was previously a member of electronic absurdists Nautical Almanac, Neanderthal performance troupe the Beast People, and party noise duo Mini-Systems. The latter group featured many of Young's artful instrument creations, including a pulsing orb that oozed fuzzy static and a glowing three-tiered synthesizer cake, which were as visually dynamic as they were sonically curious. After a lone solo cassette in 1997, Young added guitarist and fellow Beast People member Aaron Dilloway to the Wolf Eyes fold in 1999. Dilloway had an equally storied past in the Michigan underground as a member of Galen, Couch, and the Universal Indians, and as owner of Hanson Records, which along with the more rock-aligned Bulb Records was the chief outlet for many of the groups mentioned above.
As a duo, the sound of Wolf Eyes was rooted in rock riffs more than abstract electronic weirdness. However, even as their self-titled debut was released on Bulb, the band's sound was changing. Tiring of the rock side of their sound, the duo did a series of limited-edition collaborations with Universal Indians drummer John Olson as Wolf Eyes with Spykes. The Spykes name was one of many aliases for Olson, whose prolific noise and experimental output was constantly released on his influential underground American Tapes label. Olson meshed perfectly with Young and Dilloway, and from 2000 on, Wolf Eyes would be known as a trio.
Their next proper release came with Dread in 2001 (reissued on CD in 2002), but along the way the group furiously documented their development, releasing 25 tapes and CD-Rs on both Hanson and American Tapes that year. The next year saw another spate of limited underground releases as well as the CD re-release of one of 2001's more experimental Wolf tapes, Slicer. Touring was still a big part of the group's schedule as well, putting the Midwestern trio in touch with many admiring fans, including East Coast label Troubleman, which signed the band up for 2002's Dead Hills EP. A tour with likeminded sonic arsenalists Black Dice led to a collaborative LP on Fusetron in 2003.
The following year Sub Pop joined the fan club, issuing the Stabbed in the Face 12"; Burned Mind arrived later that year. More singles, including 2005's Fuck the Old Miami and 2006's Equinox, Black Vomit, and Driller/Psychogeist anticipated the full-length Human Animal, which was released in fall 2006 and featured new member Mike Connelly of the likeminded Hair Police (by that time, Dilloway had ceased to tour with the band but mixed this album). The Troubleman Unlimited release Solo, which reissued some of the group's limited-edition cassettes sold on tour, also arrived around this time. Wade Kergan, All Music Guide
Group Members:
John Olson
Aaron Dilloway
Nathan Young