Artist Details: Wolf Parade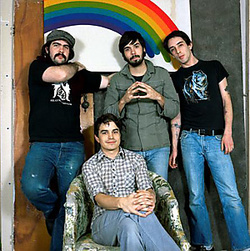 MEMBERS:
Dan Boeckner
Spencer Krug
Hadji Bakara
Arlen Thompson
WHERE FROM:
Montreal
WHEN FORMED:
March 2003
HOW FORMED:
According to Arlen, this is how Wolf Parade formed:
As far as I can remember the story, Spencer was called by Alex Megelas of Grenadine Records to play a show opening for Melon Galia and Arcade Fire. Spencer agreed, although he had no band, so Spencer called up Dan to get something together for the show.
They wrote songs in Spencer's apartment playing with a drum machine through comupter speakers.
I got a call about a week before the show from Spencer asking me if I wanted to play a show that Saturday. I agreed and we rehearsed as a full band with amps and PA the day before and the day of our first show. All of the gear was borrowed; I don't think we had any equipment of our own except for Spencer's Juno-4 keyboard.
I am pretty sure that set the precedent of our band always being half-assed…
Releases and items by Wolf Parade

CD: $8.00
Wolf Parade
Like the Unicorns, they have roots on Vancouver Island as Dan Boechner was the leader of Atlas Strategic (CD on Global Symphonic) and Spencer Krug ...