Artist Details: Zipper Spy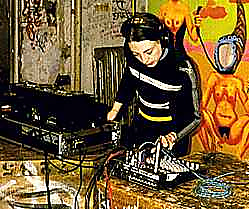 Zipper Spy is a project by multimedia artist Maria Moran, incorporating video projection, metal sculptures, digital sampling, and yes, zippers. Zipper Spy creates a full sensory performance through mixing these analog and digital realms. The result is truly the best of both worlds, building a pantheon of found sounds and undulating low end frequencies; an exhilarating mesh that binds art, music and technology into a singular cohesion. If you thought noise was only a guy thing, then think again, because Maria Moran can keep the pace with any man.
"Maria Moran, aka Zipper Spy for this project, approaches noise with a different touch. Her music — yes, music; these are not endless walls of concrete noise but at times delicate sonic constructions — draws also on sampling, some perverted forms of techno (beat is at the center of the project) and found sounds. She mixes various sound sources to create strange polluted dance tunes. The typical recipe (but not always followed) includes one or more layers of analog or digital noise for texture, a beat pattern, either derived from another sampled beat, glitch or noise, and miscellaneous loops as means of a repetitive melody. Her palette is very rich, which means that even though 23 tracks, for a total of 70 minutes of music, make for a heavy load, the listener doesn't come out of Icki Beats exhausted. The album culminates with "Start (A Remix)", the longest piece of the set at 10 minutes and also the more developed. Built with the sounds of a car engine starting and jacket zippers, it verges on electroacoustics. "Hinged Up " provides another highlight, its limping rhythm track and abrupt changes giving it a feel of Stock, Hausen & Walkman gone noise — something different, really. This was the noise label Ground Fault's first release." François Couture
Releases and items by Zipper Spy

Ground Fault
Track 1 - Bumble Bee Beats .......... 4'32" Track 2 - New Ground .......... 2'41" Track 3 - Verb Jump Funk Bail .......... 3'14" Track 4 - HarD .....