Inv036
Nadja: 12012291920 / 1414101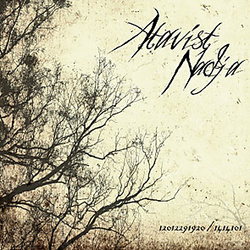 "12012291920 / 1414101 is the coming together of two distinct creative forces in the form of Atavist (UK) & Nadja (Canada) and represents an abstract detraction from both of the bands previous works.
The feel of the album is one of blissful escapism presented through harmonious audio manipulation, intricate melody and polarising heaviness. This release sees Atavist / Nadja placing the listener into an dreamlike environment throughout the albums two expansive tracks by using an innovative array of layered sounds, abstract guitar work, subsonic bass levels and delicate electronics to give a desolate, yet warm full length album.
12012291920 / 1414101 is not a split album, rather a collaborate effort between Atavist & Nadja with each artist bringing their own components to the whole." – Invada.