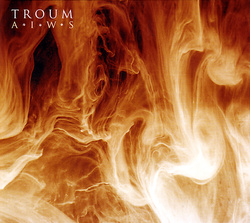 Genre: Drone Ambient
01 Ahmateins
02 Aggilus
03 Spirare
04 Per Sonum
05 Pantah
06 [Ga]Plaian
07 Penthos
08 Neheh
09 Peletä
Troum should really require no introduction. For the past near-decade, this German duo has been making some of the finest drone-scape ambient sounds that have seen the light of day and AIWS, their first full-length CD in 4 years, follows this trend with aplomb by being an exceptionally deep and involving piece of music.
Deep certainly is the word for AIWS. Everything is built of layers within layers and so heavily convoluted that it almost becomes daunting. Each track title translates (thanks to the promo sheet!) from languages as diverse as Old Gothic, Latin, Persian and Hebrew into "The Sorrow of Mourning" or "Way/Path/Line" which, although it doesn't necessarily mean much more than the arbitrarily ascribed song-titles common to instrumental music, it adds a knowing layer to the experience of listening to the music. Troum develop their ethos as deeply as they develop their music and it shows.
So, the music… In their own words, AIWS is made from "Sufi-songs, old vinyl-crackles, acoustic & e-guitars, e-bow, e-bass, voice & whisperings, accordion & flute" but you possibly might not realize it as each of these elements is layered and re-layered to create a throbbing whole that has echoes of such hypnotists as My Bloody Valentine or certain parts of Spacemen 3. "Spirare" sounds like the entirety of The Cure's Pornography masterpiece re-recorded and layered into a 6 minute track without actually being guitary or gothic in the slightest. For me, it's this impressionist approach that works so well; each track has a feeling, an aura, which inspires some kind of imagery – from jerking, backwards-masked eeriness to shimmering, beautiful soundscapes.
That such a layered, intricate and yet delicate album was recorded on either 4- or 8-track is a stunning achievement and shows the amount of craft that goes into a Troum release. From the vinyl crackle and from what sounds like shuddering, looped guitar of "Ahmateins" to the abstract, manipulated machine-vocalizations of the soaring "Peleta" this is a work to lose yourself in. For some reason, when I listen to AIWS, I'm reminded of Cliff Martinez's soundtrack for Steven Soderbergh's version of Solaris. Although they're different records musically, there's a link there; like Martinez's soundtrack, like Solaris itself, put AIWS on and you will be immersed in an ebbing, organic world of sound that never really quite leaves you.
With AIWS, a stunning work which destroys the myth that experimental and instrumental music is emotionless and heartless, Troum soar over their peers. Genuinely one of the finest records of 2007 and recommended most, most heartily. I can say little more about it than that.