EKTRO35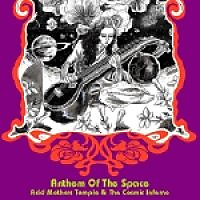 Acid Mothers Temple needs no introduction. Anthem of the Space, the band's
second disc for Ektro, is yet another entry in the collective's massive and
maddening discography of Japanese psychedelic lunacy. It also flaunts the
more rocking side of the group's recent incarnation. The two extended jams
on this album are performed by Acid Mothers' new-ish lineup, in which
Mitsuru Tabata (ex-Zeni Geva; ex-YBO2; ex-Boredoms), Koji Shimura (ex-High
Rise; ex-White Heaven; Miminokoto; Jutok Kaneko), Futoshi Okano (ex-Ghost;
ex-Subvert Blaze), and familiar AMT face Hiroshi Higashi get freaky with
mainman Makoto Kawabata.