ess011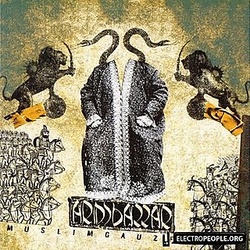 Armsbazzar investigates both released and unreleased selected recordings from the intense period comprised between 1994 and 1997. Included are the out-of-print Hebron Massacre and Gulf Between Us singles, which feature two of the longest, most stunning and hypnotic MUSLIMGAUZE pieces ever – plus two inedit, highly percussive tracks taken from the recording sessions of the mythic, yet still unreleased and unheard, Zamindar album.
Presented in our custom 6-panel digisleeve packaging – which also houses a 5-color poster – adorned by the highly original and strong artwork from the fantastic Iranian visual artist Mohammad Fadaei. Mastered by Peter Andersson and limited to 999 hand-numbered copies.
Unfortunately Bryn Jones, this eccentric music visionary and controversial figure who spent a lifetime moved by personal beliefs and relentless dedication to the Middle East issues, is no longer with us, but his unique and disturbing music is carved in stone and will always be in our hearts and minds.