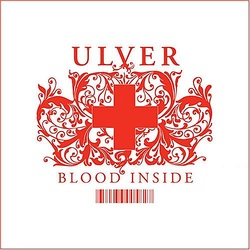 Ulver – Blood Inside [featured album]
(Jester Records) Total Time: 45:51 It was with great excitement that I received a pre-release version of ULVER's latest, "Blood Inside". I was waiting for the next complete chapter in ULVER's saga, since 2000's "Perdition City". You see,
ULVER
are shapeshifters and you never know what you're going to get. Starting back in time with Bergtatt,
ULVER
released one of the finest examples of Black Metal music – extreme, yet beautiful, melodic, but aggressive, Bergtatt was full of images waiting to be explored. The next
ULVER
release was a surprise – Kveldssanger was a neo-folk acoustic record, very distant from the black metal musical genre, but close to its pagan spirit. The next release was again a surprise. Nattens Madrigal, was a musical experiment, a pure black metal record that pushed the limits of the genre on how extreme it can be. A treatise into the relationship of wolf and man, Naatens Madrigal, was brutal, fast, strong and bold. But it was after completing this Trilogy, this journey into the Norwegian netherworld, that the Journey of
ULVER
into experimental music would begin. It was not until 1998, with the release of "Themes from William Blake's the Marriage of Heaven and Hell" that the musical breakthrough finally came. I remember reading in the print edition of Metal Invader, that
ULVER
had created a masterpiece that was so new, that it was doomed to commercial failure. Now, I don't know about commercial failure, but I remember buying the record (this was my first encounter with
ULVER
), listening to it a few times, and simply putting it in my record collection to gather dust – That was not black metal, I thought. The music was extremely difficult to digest, a harsh shell that was very hard to break, which you needed to do to try to comprehend the ideas contained inside. Because the record was full of ideas. A brave instrumentation of an equally brave work, William Blake reinterpreted Dante's inferno as a hallucinogenic journey, where his ideas about God, Satan, Angels, Religion, Strength and Energy are expressed. Hence,
ULVER
very fittingly reinterpreted the traditional ideas about music, and combined elements of late 70s and early 80s industrial music (
PSYCHIC
TV,
COIL
,
THROBBING
GRISTLE
) with minimal electronica (
KRAFTWERK
), 90s trip hop (
PORTISHEAD
), epic and experimental black metal (
EMPEROR
) and drum and bass, to create an epic journey through Blake's work. "Themes from William Blake's the Marriage of Heaven and Hell" is an incredible record, that requires many careful listening sessions to crack its shell and feast on its wonder. A true masterpiece,
ULVER
spearheaded a new age of Avant-Garde, which was followed but other bands (
SOLEFALD
springs to mind). But how to continue from there? 2000 saw the release of "Perdition City: The Soundtrack to an Interior Film". The shapeshifters continued their metamorphosis to present us with another treatise on the love of pure music. A journey into the human psyche, "Perdition City" was a collection of images (funnily enough, the art in the CD itself was filled with beautiful abstract photography), a rhythmical journey into the abstract hallways of always. ULVER's music had mutated into yet another stage. Combining influences from
IDM
, Jazz, Breakbeats, late 80s Industrial, ethereal, Japanese noise and dark ambient, "Perdition City" was an album to dream to, to turn off the lights and the world and travel into. You see, both "Perdition City" and its predecessor represented perfection, as viewed from different angles; Experimentation and expression of beautiful ideas, a love of surrealism and the world that can be, and novelty in a time of stagnation. "Perdition City" created waves with its rhythms for you to travel in. Dressed with abstract poetry and Garm's amazing vocal performance, each listening is a trip that you don't quite know how it's going to end; it's certain to change you ever so slightly, to make you a better person for it. After "Perdition City",
ULVER
went quiet for a while – but not mute. They released two soundtracks for fringe movies ("Lyckantropen Themes" and "Svidd Neger", the latter of which was reviewed here), 3 Eps ("Silence Teaches You How To Sing", "Silencing the Singing" and "A Quick Fix of Melancholy", the latter of which was reviewed here) and one remix release, to celebrate their 10 years in existence. The latter, "1st Decade in the Machines", was particularly interesting, because in the spirit of
ULVER
themselves, it contained reinterpretations of ULVER's work to form complete new musical formations, from fringe artists such as
VVM
,
MERZBOW
and
THE
THIRD
EYE
FOUNDATION
. But this is not a review of ULVER's past work, it is, in spirit, a review of "Blood Inside". Take a deep breath, pour a glass of blood red wine, and keep reading. It's a very daunting task to listen to ULVER's new work for the first time. You truly have no idea what you're going to get. And there's always a thought in the back of your head "Is this the experiment that's finally going to fail?". And not only that, but as my own experience with "Themes…" taught me, it can be very very hard to interpret their work. It was with these things in mind that I started listening to the "Blood Inside". Let me start by giving away the ending: abstracting away from instruments (traditional or otherwise) and focusing on ideas and music, "Blood Inside" is passionately beautiful. And it's not just beautiful, but it's very very new; You have truly not heard an album like "Blood Inside" before. It's totally different from both what
ULVER
have done before and from what has been done in the musical world in general. This is a very difficult album. It's every bit as difficult as "Themes…" is, and hence is very tough to describe. Let me start by a stab at the genre: It's…. Experimental/noir/avant garde. Their influences are endless, but the way they combine them is masterful. Black metal, Jazz, Blues, Classical, Industrial, Ambient, Ethereal, and quite possibly every genre you can think of,
ULVER
are sampling from everything and are masterfully creating a musical collage that attacks, embraces and beautifully chokes the listener into its world. A soundscape that creeps up to you and floors you like a bulldozer, "Blood Inside" is a composition of drums, violins, percussion, guitars, vocals (choir and solo ones), synths and a host of samples, that's expressed in nine audio and one video tracks: 1. Dressed In Black: A downtempo electronic track, moody and atmospheric, with industrial, ethereal and epic overtones to initiate the listener to "Blood Inside". Resampled percussion, piano, Garm's haunting looping vocals, "Dressed in Black" is a very sweet introduction. 2. For the Love of God: It starts with a funereal drum rhythm and obvious doom metal influences; soon enough though, Garm's voice erupts into a beautiful orgy; guitar solos, bells. 3. Christmas: Bells/percussion, strings, followed by a rhythmical attack, embellished with vocal layers. Trumpets, synths, gates open wide, eyes wide open. The drumming acts as guide to the rest of this madness. Christmas could have effectively been lifted from EMPEROR's "Anthems to the Welking at Dusk", after being stripped off its guitars and screams. A truly epic black metal song, that doesn't express itself using the traditional black metal instruments. 4. Binded by Blood: Atmospheric, very relaxing, ethereal, almost
DEAD
CAN
DANCE
, choirs, sampling of blues music. 5. It is not Sound: Electronics, "A quick fix of melancholy"-type strings. Then, industrial; a relentless rhythm/beat, acid house, almost danceable.
IDM
, power electronics, an electronic reinterpretation of classical romantic music, beautiful. "Again and Again and Again". There's also a video included of this song. You can see stills of this insane production at ULVER's Official webpage, including Garm dressed as the pope. 6. The Truth: Claustrophobic, constant drumming, guitar solo, black metal influences without being black metal. A haunting vocal delivery to finish with. "It is nothing inside it". 7. In The Red: A start not dissimilar to
DEPECHE
MODE's "Behind the Wheel", followed by a reinterpretation of Jazz that you have truly never heard before. This is Jazz, remixed with classical music and filtered through an industrial prism, it is wondrous, thrilling and menacing. One of the brightest sides in this blindingly shining diamond. 8. Your Call: Erringly peaceful, strings, vocals, a phone ringing and the emergency operator picking up. Essentially an intro to the closing song of this album. 9. Operator: A violent, adrenaline pumping start, a post-rock lead guitar solo, maddening drumming, sampling, with a soundtrack-like ending. A special note on Garm's vocal performance: It is simply amazing. Performed, filtered, distilled and delivered on multiple musical layers on all directions, ranging from high pitched to low pitched but always blossoming in melody, his voice is all embracing, powerful, psychedelic and emotional, and serves as a first fiddle to the "Blood Inside" orchestra. The madness of
KOROVA
, the theatrics of
ARCTURUS
, the beat of
PORTISHEAD
, the love of
BJORK
, the experiments of the
THIRD
EYE
FOUNDATION
, the grandeur of
EMPEROR
; is this
PINK
FLOYD
for the claustrophobic generation? "Blood Inside" will be available in a limited red velvet edition."Love God harder, from behind the red".
ULVER
create the music that we will be listening to in 10 years time. We salute the wolves. Dedicated to Mario. May flights of angels sing you to your rest.
Reviewer: Stefanos Zachariadis c/o metal invader