SQRL005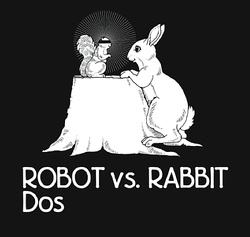 "Dos" is Robot vs. Rabbit's second album since they
came together in 1998, apart from various CD-Rs
and compilation appearances. "Dos" is three years of
panic attacks, heartache and depression filtered
through pedals, old amps, and primal urges. This
album is a continuation of the themes established
with RVR's Trading the Witch for the Devil album
[Mandragora 2002]. Whereas Trading the Witch
focused on the horrors of World War II and the
American psyche, Dos concentrates on the cold
war era space race, the death of Kennedy, and the
American dream.
In Robot vs. Rabbit, nobody's the front man.
Nobody plays solos. Nobody's told what to play.
They blur the boundaries between avant-garde
experimentalism and trance-inducing improvisa-
tion with droning, drug-fuelled performances.
RvR are influenced by non-verbal communication,
which explains their love of instrumental music.