ALIEN74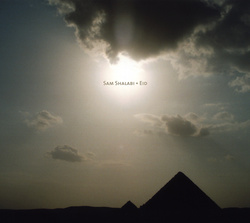 Digital Formats:
FLAC Lossless
320 Kbps MP3
Variable Bit Rate MP3
★

(Includes Free Downloadable Album)
Sam Shalabi's third solo outing for Alien8, Eid, was written and conceived in Cairo, Egypt in 2006 while Shalabi was living there and further realized in Montreal and Vancouver during the first half of 2007. The album is a result of two separate ideas that slowly coalesced over a couple of years. The first was Shalabi's idea of composing songs for singers he knew and enjoyed. The second idea was that of creating a 'modern Arabic pop' record.
It was during the time that Shalabi was living in Cairo he came to the realization that Arabic pop music was much more wild, wide and weird than he had imagined and this also had a huge influence on this recording. Over time Shalabi became less interested in trying to make pop songs and more interested in allowing the material to take it's own shape.
Upon listening to Eid it becomes clear how Shalabi was influenced by the wide breadth of Arabic pop music: each piece is stylistically its own and allowed to take its own shape. The recording opens with a beautifully played piece of Shalabi's solo oud playing, that gives one the impression they are in store for a gentle acoustic journey. Gears shift drastically with the follow up track, Jessica Simpson, which can also be considered one of the recordings most interesting and unusual selections. Guest vocalist Radwon Moumneh does an excellent job delivering his vocals over repetitious percussion; then a totally unexpected guitar hero style solo slips in out of nowhere. Sam Shalabi enlists the help of far too many guests to list here, although along the standout contributions is that of singer/songwriter Lhasa de Sela who has a thriving solo career and has collaborated with the likes of the Tindersticks and Nick Cave. Constellation Records recording artist Elizabeth Anka Vajajick sings on Billy the Kid and Katie Moore is absolutely stunning on Billy the Kid pt II.
This will mark our ninth release with Shalabi, not including his efforts in various projects as a guest or studio musician.