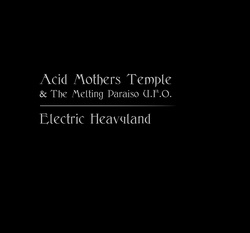 Digital Formats:
FLAC Lossless
320 Kbps MP3
Variable Bit Rate MP3
★

(Includes Free Downloadable Album)
Alien8 Recordings continues to invade different areas of psychedelia and is pleased to present the most groove-heavy release yet by Japan's Acid Mothers Temple. Electric Heavyland graces the areas of extreme stoner-rock, full-on psych freak-out and even heavy metal.
Acid Mothers Temple have become the most spoken-of in the new wave of Japanese bands that are breaking into European and North American markets, due mostly to their relentless touring and release schedule. Over the last couple of years the band has performed in Japan, UK, Scotland, USA and Canada.
Electric Heavyland is one of the most over top releases to come out of the Temple so far, and is perhaps Kawabata Makoto's heaviest groove-oriented material since the classic Mainliner debut, Mellow Out. The recording is made of three tracks that at times will have listeners reminiscing over the likes of early Mudhoney and Monster Magnet's Spine of God era sound. It's the one of the catchiest records from the incredibly prolific psych unit in recent times and can be best compared to the heavier tracks on Absolutely Freak Out Zap Your Mind or the bordering-on-metal sound the band often seems to take on in live situations.
Atomic Rotary Grinding God opens up the recording with Cotton Casino's droning vocals and spacey electronics which slowly build momentum and eventually give way to an explosion of High Rise-paced mayhem that will have even the most jaded rockers bobbing their heads. While the rock and psych influences are the most obvious, closer attention reveals beautiful kraut rock inspired patterns.
Comparisons to Mainliner hold especially true during Electric Heavyland's second track, Loved and Confused. This track wastes no time building up – it is heavy grooving rock from start finish, 17 minutes of pure psychedelic bliss. The record closes with Phantom of Galactic Magnum, which closes the record the same way it opened: slow-building electronic drone with treated vocals. Speed guru Kawabata Makoto leads the way with his trademark solo drone guitar sound which again is taken over by phases of electronic washes eventually dissolving into another hard rock assault at the five minute mark.
The release is beautifully housed in our custom cardstock double gatefold packaging. The artwork on this release veers off the usual path of bright colors, naked women and flying saucers to pay homage to King Crimson's highly regarded Earthbound bootleg. The packaging is also quite similar to that of the Mainliner's Mellow Out release. The inside of the gatefold sleeve features a classically psychedelic photo of the band in full color for maximum effect.
The Acid Mothers Temple are on a tour of North America which will include the record release party and only Canadian show in Montreal. Then they will be off to perform shows in the UK.
This will mark our first of two planned releases with the Acid Mothers Temple. The other is a forth-coming split release with Montreal-based collective set fire to flames.