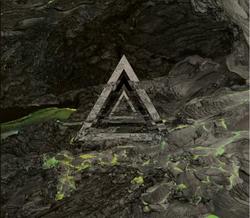 Riding atop the recent wave of black metal/noise hybrids who combine the bleak frosty riffs and blackened ferocity of underground BM with blown-out and corrosive strains of industrial noise (see also WOLD, Emit, Grief No Absolution, Enbilulugugal, Vargr), the Australian one-man band Nekrasov has so far made a substantial mark in the realm of extremist necro-racket with a series of limited edition, brutally abrasive albums (Cognition Of Splendid Oblivion, The Form Of Thought From Beast, etc) that have mostly been self-released, save for some recent offerings on labels like Siege Of Power and Chrome Leaf. Early on, Nekrasov's sound was steeped in caustic noise, a blazing industrialized black metal assault that was doused in heavy levels of irradiated distortion and Merzbowian skree. But more recently, it's mutated into less metallic regions, alternating the hyperblast black metal with forays into crushing, demonic wall-noise and blasted ambience. Now, Nekrasov is back with a new full length (the first for Crucial Blast), and it's the most advanced slab of their blacknoize terror that we've heard so far. An octagonal prism of isolationist drone, flesh-rending mechanical black metal, abstract otherworldly beauty, claustrophobic industrial dread, and the most violent, suffocating strains of harsh noise, Extinction is pure cyclonic contempt for humanity.
The eight-song disc combines hyperspeed cybernetic blastscapes and bleak black metal riffage, the tracks often revealing snarled minor key melodies that are buried deep beneath blizzard blasts of machinegun drum machines, the drums veering through nerve-fraying rhythmic shifts, and acidic croaks bathed in black hiss. Triumphant frost-bitten riffs scream out of maelstroms of violent distortion, and Choral voices soar through a cyclone of helicoptering blastbeats and sheets of blown-out, ultra distorted drone, streaked with bits of gorgeous vibraphone-like melody, somber Hammond-like organ drones and looped synth, sometimes breaking off into grinding slo-motion industrial throb or swirling kosimiche drift. The tracks on Extinction go back and forth between the noisier, more industrial like material and overt black metal, though the two sides of Nekrasov's sound are always present together. When the sound does move into pure noise, it's either vast fields of minimal ambient drift, metallic clank and distant percussive sounds, utterly bleak Lustmordian soundscapes, or crushing, almost HNW-style slabs of molten noise, scouring waves of hellish skree and crushing slow-motion tidal surges of jet-black sonic syrup flecked with dubbed-out blasts of tectonic crush and electronic glitches that ripple across the void.
Closing the album, the title track descends even further into black industrial crush, a monstrous, almost seventeen-minute long sprawl of plodding, simple drum pound echoing within a slowly swirling fog of distorted fx, churning, billowing black ambience, buried black buzz, an endless whirlpool of blown-out synthesizers and the immense black breath of leviathan lungs heaving deep below the surface.
Like everything else from Nekrasov, this album is loaded with blasting inhuman drumming and ferocious riffing that form into noise-drenched trance-scapes of bestial industrial BM, but the attention to texture and sound sculpture elevates this above most mechanized black metal projects, with immersive layers of electronic sound, creative stereo panning techniques, and other production tricks that create a harsh, alien atmosphere that is pretty unique to Nekrasov's sound. This is a scorching new chapter from one of our favorite bands out there right now fusing black metal and noise.
The cd version comes packaged in a full color six-panel digipack.