ALIEN7
Masonna: Frequency LSD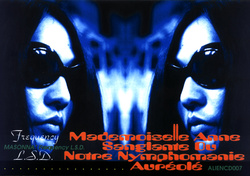 Digital Formats:
FLAC Lossless
320 Kbps MP3
Variable Bit Rate MP3
★

(Includes Free Downloadable Album)
Maso Yamazaki a.k.a. Masonna is undoubtedly the most over the top player in the field of extreme noise. He has been dominating the Japanese underground since 1987 with his barbaric mix of vocals and noise. The results on Frequency L.S.D. are incomparable to other noise makers, due to Maso's obsession with Sixties and Seventies pyschedelia.
Only in the last couple of years has Masonna come to prominence here in North America. Much of this attention is due to the success of Inner Mind Mystique on Release/Relapse. At the same time Beck, Sonic Youth and most recently Faust have all hand picked Masonna to open for their Japanese appearances.
Frequency L.S.D. is highlighted by tripped out tonal works intertwined within its overall chaos, giving it a much different feel than past efforts. This recording features 14 ear wrenching tracks and is beautifully packaged in a limited edition special packaging (5 1/4" by 7 1/4").
"Frequency L.S.D. is the best Masonna CD ever, and one of the top five noise albums of all time." – Matt Kaufmann, Exile Osaka.