ALIEN89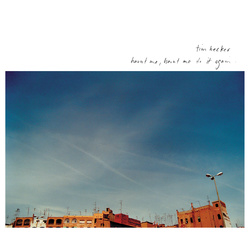 Digital Formats:
FLAC Lossless
320 Kbps MP3
Variable Bit Rate MP3
★

(Includes Free Downloadable Album)
Now, for the first time on vinyl, Haunt Me is available for pre-order on double clear vinyl LP packaged in a full colour gatefold sleeve! This edition is limited to 750 copies.
Tim Hecker needs much less of an introduction today than he did when he released his debut recording Haunt Me nearly ten years ago; he now easily holds his own with top tier electronic artists from around the world. Despite its age the album remains interesting and vital. While not nearly as complex as more recent outings such as Harmony in Ultraviolet and Imaginary Country, it gives a very clear view into the artist's approach and style.
Haunt Me is a beautifully arranged record that sees nine compositions spread out over twenty tracks that have been woven together to form one long extended piece of music. This method has become standard on the recordings by Hecker that followed Haunt Me and is an excellent method to deeply immerse the listener into the work. At the time of Haunt Me's release, Pitchfork championed Tim Hecker as one of North America's best kept secrets, scoring Haunt Me an impressive 8.6 on 10, and they have continued to support the artist's endeavors ever since.
On Haunt Me Hecker is often riding a fine line between ambient and noise. During one interlude he is utilizing a cascading wave of distortion and throbbing bass and just as it starts to become the slightest bit oppressive. Gears are quickly shifted and the high end harmonies and feedback are quickly giving way to more lush passages in vein of early Stars of the Lid. Tim Hecker very quickly learned the technique of blending the ebb and flow of soft and hard sound and he continues to work towards perfecting this technique today.
Tim Hecker has performed all over the world at most of the major international music festivals and is set to Perform in the UK at the upcoming All Tomorrows Parties event curated by godspeed you! black emperor. He has also performed alongside the likes of Oren Ambarchi, Aidan Baker, Fennesz, Ben Frost, Grouper, ISIS, Jesu and countless others.
We are pleased to finally be able to offer this stellar debut as a deluxe double vinyl edition alongside a brand new digipak CD version as well.