GF007
Jazzkammer: Hot Action Sexy Karaoke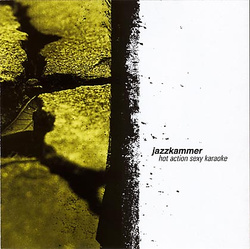 Jazzkammer is a duo made up of
Jazzassasin's Lasse Marhaug and
Supersilents John Hegre. The project is being
quite a bit recently, partially due to the
connection to the rather hip improv label Rune
Gramaphone. Instruments here include
turntables, casio, electronics, location
recordings, guitar, found sounds, stolen
sounds and modified instruments.