INEP002
Polmo Polpo: Kiss Me Again and Again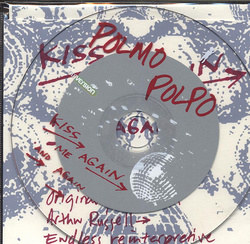 Downloadable/Playable Tracks
(click '+' to add to cart)
1
Kiss Me Again and Again
21:24
$4.99
Full Downloadable Album
21:24
$4.99
Digital Formats:
320 Kbps MP3
Variable Bit Rate MP3
★

(Includes Free Downloadable Album)
Polmo Polpo's contribution to the newly launched Intr_version EP series is a sprawling dystopian disco homage to Arthur Russell's late seventies contorted dance project, Dinosaur. 'Kiss Me Again and Again' chugs its way out of the station with dizzying guitar clutter fluttering over a propulsive drum loop that rolls in a hypnotized funk. The track unfolds like a brown rose and undergoes a metamorphosis slow enough to fool you into making comparisons to growing grass. Until you realize that you're no longer looking at a lawn but a jungle. Sandro Perri has created another hybrid masterpiece that is liable to blow up dance floors like a cluster bomb, infect road trips and make even the most jaded listener gasp for air.