ALIENLP73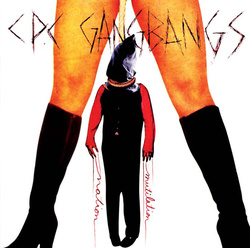 ★

(Includes Free Downloadable Album)
CPC Gangbangs rise from ashes of garage punk architects Les Sexareenos, Daylight Lovers and Spaceshits and create a new drug, punk, weirdo, hate trip that spews from the Franco-Anglo Petri dish of Montreal. With already 5 vinyl only EP's under their belt CPC Gangbangs have solidified their status in the subterranean abyss that is the new punk underground railroad. Although their sound is celebratory and consuming it is often evil as well and full of the promise of self-destruction boosted by copious amounts of cocaine, LSD and Canadian Maple Whiskey. This sound is part Warsaw, part 13th Floor Elevators, part Flamin' Groovies, part Turkish psychedelic rock and all while their feet are deeply rooted in the unrestrained attack of primal punk deconstruction. Guitars are broken, amps are on fire, drums avalanche off the stage and someone gets hurt. It's no wonder that Vice, Horizontal Action, Victim Of Time and other fine institutions that promote reckless, irresponsible action hail the CPC Gangbangs as the best value for your money when it comes to wildly entertaining, subversive rock n roll. Never has the sound of something falling apart sounded so perfect.
"CPC made it seem like permanent midnight at 10pm. they're like Dennis Hopper in blue velvet when he says 'now it's dark', and you know some ugly shit is going to happen. actually, they are that ugly shit. It made me drink whisky." – pestilentsplendour
Alien8 Recordings is pleased to be issuing the vinyl LP edition of this release. The CD format is on Swami, but can also be purchased from our site.