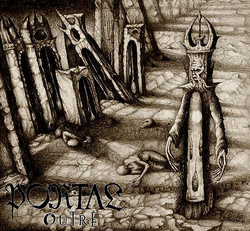 What will alienate Portal that much more from today's so-called death metal scene (well, 95% of bands being passed as death metal today aren't!), "Outre" is an album, one in which is being released in the presence of today, that truly captures the pure essence of what real death metal is supposed to encompass. In today's death metal scene, most bands (who claim to be death metal) feel the need to digitally trigger themselves and continuously enter all these death metal recitals in trying to out-do whoever and try to be the most technical, the fastest, the most triggered, the most well-produced, come up with the coolest riffs, and the most brutal of course (any idiot can do this, especially today). Nonetheless Portal want nothing to do with this…
"Outre" is an album drenched in filth, disgust, raw other-worldly mire, unforgiving surrealism, and pure unbridled horror, a scenario in which some might indeed find hard to grasp. Through waves of vortex-like guitar histrionics (don't expect to find any identifiable riffs on here), methodically tribal-like pacing percussion, looming bass pulsations, and the subterranean vocal dictatorship of The Curator, listening to "Outre" is like being sucked into that suffocating black hole in the nether-regions.
Like an abominable silent art-house film from the '40s gone terribly awry, like the death metal soundtrack to the existential disturbing horror portrayed in Salvador Dali's Un Chein Andalou, Fritz Lang's M, or Robert Wiene's The Cabinet Of Dr. Cagliari, "Outre" could very well be one of the most uneasy, and uncomfortable listening experiences in the history of death metal. True death metal art unparalleled…
Nonetheless, the tracklisting for "Outre" goes as follows:
1. Moil
2. Abysmill
3. Heirships
4. Omnipotent Crawling Chaos
5. Black Houses
6. Outre
7. Thirteen Globes
8. Sourlows
You can check out an MP3 of the track "Black Houses" via our MP3 section.
Also to note, the way this demented masterpiece is packaged; housed in a thick 5" cardboard sleeve, with the CD placed in a designed inner-sleeve, and with a specially crafted booklet bound by leather-like decrepit paper and stapled in gold (for the record, all copies of the album are in said format, hence this is no alternate version and at the same time there is no regular version), all protected by a thick sealable polybag are set in place to bring the aesthetic of this horrid edifice to a new level not even attempted in death metal. And of course to stare at the luminous cover created by Jeff Lowe is an experience in itself to say the least.
PORTAL on "Outre" are: The Curator (Vocal Chords, Pulpit Forecaster Dictatorship), Horror Illogium (Seven Deadly Sinews Of Enigmatic Trauma), Aphotic (Seven Maudlin Cacophonic Infrastructure), Elsewhere (Writhin Undertow Omnitidings & Rift), Monocular (The Hands Of Time).